MVF Commences Distribution 8
September 2022 Update
►

Payouts now exceed $4.078 billion
►

40,454 victims have received assistance
►

Minimum recoveries have reached 88.35% of fraud losses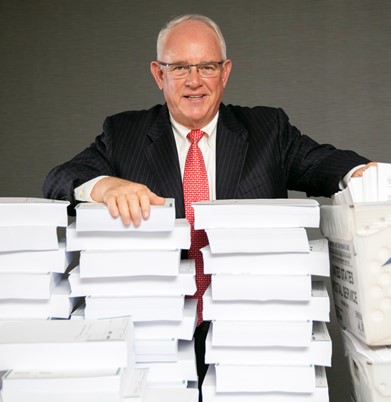 Special Master Breeden with MVF checks prepared for distribution. 
Special Master Richard C. Breeden of the Madoff Victim Fund made the following announcement:
"I am proud to join our colleagues at the U.S. Department of Justice in announcing MVF's eighth distribution, or "D8". D8 totals approximately $372 million in new payments going to 27,219 victims. Nearly 1,000 of these individuals are receiving their first recoveries from MVF, and for more than 400 this will be their first recovery from any source.
This distribution establishes several noteworthy milestones:
Payouts now exceed $4 BILLION.
More than 40,450 victims have been assisted.
Eligible victims have recovered 88.35% of their fraud losses.
Exceeding $4 billion in direct payments and delivering recoveries to over 40,000 victims are things that we have long worked to achieve. While those numbers are impersonal statistics, behind the numbers are tens of thousands of families who, with our help, have been able to recover most of what was stolen from them.
When we made our first distribution in 2017, there were approximately 16,000 victims who had never recovered even one dollar. To address this situation, the eligibility standards in the MVF Plan of Distribution included every person who lost their own money investing in Madoff, no matter how their money reached Madoff. The payout process was also structured to bring all eligible victims to increasingly higher percentage recoveries of their fraud losses. Overall, we eliminated the problem that a substantial majority of victims of Madoff's crimes did not have any recourse through other recovery programs.
The work that went into preparing for D8 represents an important step towards completing MVF's mission of helping renew the lives of the victims of Madoff's terrible crimes. Every decision that was made to resolve outstanding issues helps clear the way for MVF to finalize our process.
In every one of MVF's prior payouts, as with D8, I have had the satisfaction of seeing tens of thousands of checks being mailed to victims in 127 countries as in this photo. The entire staff at MVF takes great pride in knowing how much these checks have meant to victims in restoring their lives."
Setting a New MVF Record for Total Payouts
In its eighth major distribution, MVF is bringing participating victims to a recovery of 88.35% from all sources. That represents a 7% increase from the prior payment level set in D7. With the D8 distribution, MVF has now provided financial assistance to 40,454 victims of the Madoff fraud, making cumulative payments of $4,078,153,159. That is almost $30 million more than our total assets of $4,050,000,000 when we began making payouts. This was made possible because the Department of Justice ("DOJ") has continued to recover additional forfeited assets for payment to victims.
MVF was created in 2013 to distribute funds forfeited to the United States to victims of the Madoff fraud. Since the claim filing deadline in spring of 2014, DOJ has approved 42,719 claims from Madoff victims. As part of this process, MVF evaluated over 68,000 initial claims to determine eligibility and to compute losses. MVF traced billions in cash that flowed into Madoff through more than 1,200 investment firms or intermediaries back to the ultimate victims whose money was stolen. Indeed, in many cases cash from investors flowed through three or more different intermediaries on its way to Madoff, and each step had to be verified.
Tracing the cash of Madoff's investors was a complex and difficult task, but it enabled MVF to identify the "ultimate" victims of Madoff's crimes and to calculate their losses from the fraud. The MVF Plan of Distribution recognizes that the investors whose money was stolen were the direct victims of the fraud, not the intermediaries that served as conduits of the victims' money. From the outset, MVF has made our payments directly to victims based on the losses investors documented to us, rather than allowing any of the intermediaries, or courts overseeing them, to determine who should be paid, and how much. Our Plan of Distribution limits recoveries to people who lost their own funds that were invested in Madoff when it collapsed, without limiting eligibility based on the path that investments took to reach Madoff. That enabled MVF to eliminate the very great disparities in recoveries that previously existed where some victims had received very large recoveries, and thousands had received little or nothing.
MVF's total direct payments to 40,454 victims now exceed $4.078 billion.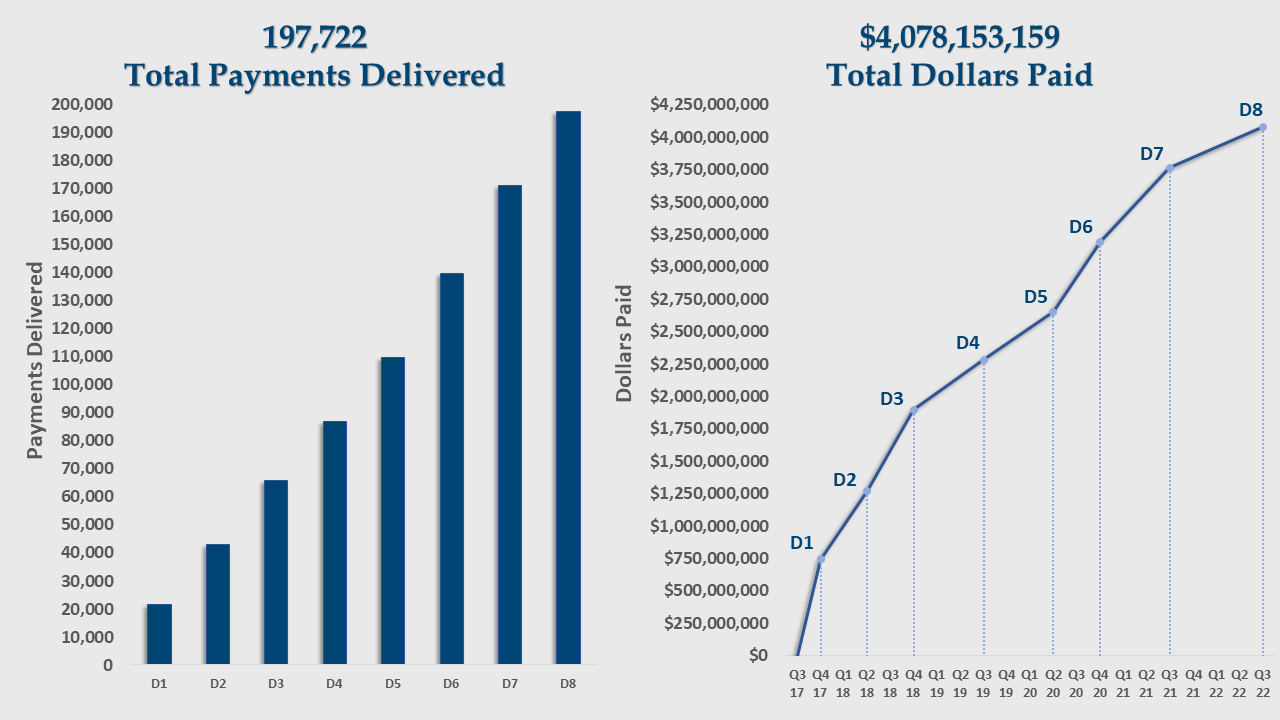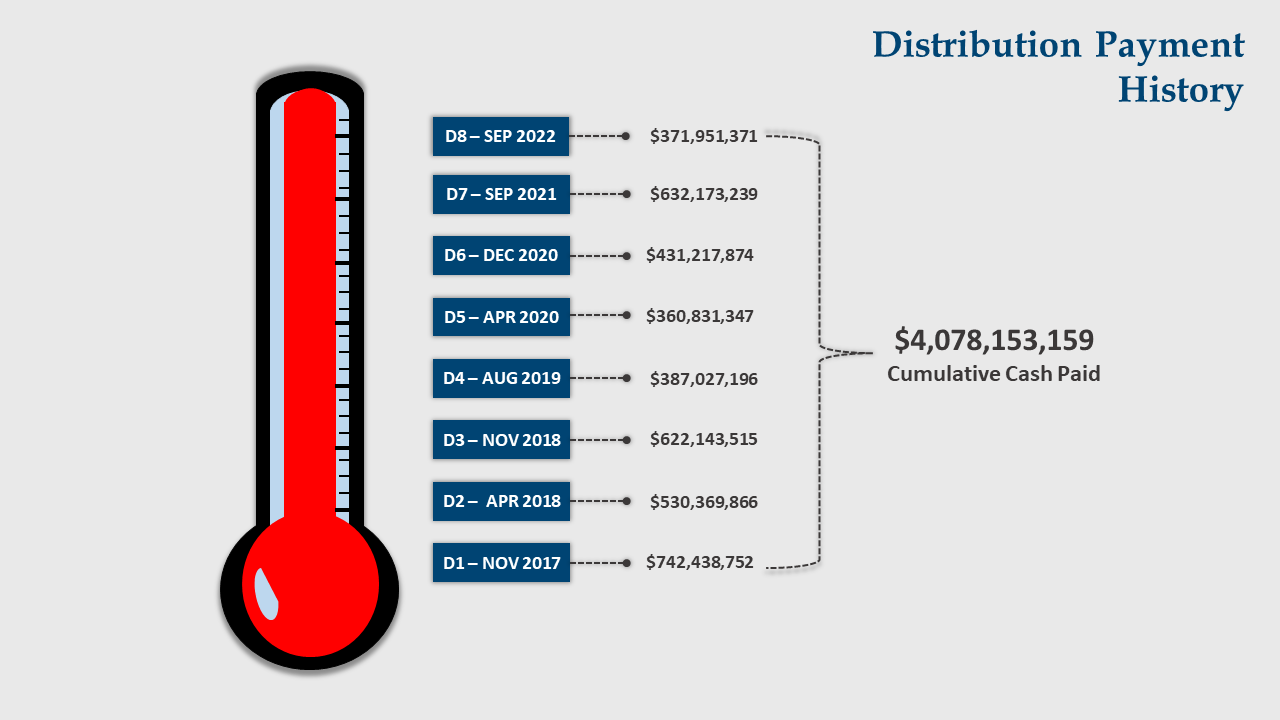 Resolving Issues of "Collateral Recoveries"
In applying percentage recovery levels to each victim, DOJ regulations require MVF to reduce remission payments by amounts a victim has already received from other sources ("collateral recoveries"). This is a fundamental principle that MVF will not pay for "losses" that victims have already recovered. MVF's reserves are finite, so double payments for some former investors would correspondingly reduce payments to all others. Thus, DOJ's regulations on collateral recoveries prevent inequities that would occur if some victims were overpaid, and others underpaid.
MVF started with a relatively small amount of funds given the vast scale of victim losses. Therefore, the MVF Plan of Distribution structured the payment process so that MVF used its funds to build on the recoveries, if any, that victims had already received or that they had reasonably available. In practice, roughly half of the 40,000-plus victims receiving payments from MVF had little if any recoveries from any outside source other than MVF. For those victims, we have provided either 100%, or virtually all, of their recoveries. For the other half of victims who have been paid by MVF, we have generally provided a significant majority of total recoveries, though in varying proportions depending on what each victim had previously received. Importantly, however, MVF brings each eligible victim to a minimum recovery percentage from all sources except where in a limited number of cases we have had to adjust for pending litigation and uncertain collateral recoveries.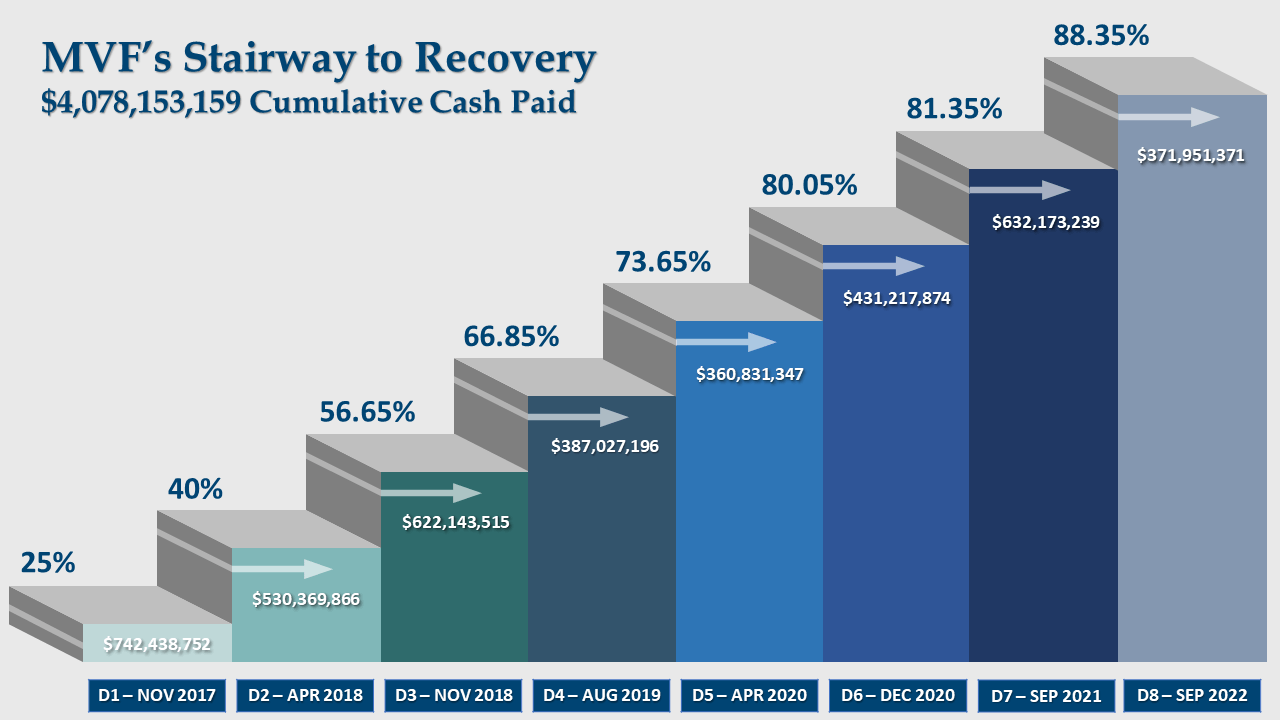 DOJ regulations also require MVF to reduce payments to victims by the recoveries that were "reasonably available" to them, even if not received. Where an investment intermediary through which a victim invested has undistributed cash received as a Madoff recovery, the victim's share of that cash is also included in his or her collateral recovery total.
In some cases, potential future recoveries are also included in collateral recoveries. Even today, nearly 14 years after discovery of the fraud, there are numerous court cases seeking recoveries of billions of dollars. Money obtained through these actions could ultimately be available to pass through to certain former investors in Madoff or investors in specific intermediaries. Therefore, large and reasonably likely future recoveries must be considered in determining final payments.
DOJ has recently addressed certain categories of petitions involving these issues of potential future recoveries. These decisions required careful balancing of the interests of petitioners who invested through specific channels and the interests of all other petitioners. These and other decisions have helped clear the way for MVF's final payouts.
Completing the Remission Process
When MVF was created, DOJ allocated $2.35 billion in assets forfeited from people or entities related to the Madoff fraud to the MVF remission program. Several years later, additional assets were forfeited, adding just over $1.7 billion in additional recoveries. This brought MVF's assets to $4,050,000,000. DOJ has subsequently been able to increase MVF assets further. With D8, MVF's actual distributions to 40,000-plus victims are now roughly 174% of total funds at the outset of the MVF process. Without the additional recoveries, we would not have been able to reach our current 88.35% baseline recovery.
With the completion of these payouts in D8, MVF has moved far down the path to completing our distribution process. After D8, MVF expects to have roughly $200 million in remaining funds. Much of this amount is reserved until specific petitions or requests for reconsideration with contingencies are resolved. In a remission proceeding of this size and scale, the details of final payouts depend on resolving every outstanding issue so that final victim dispositions can be made.
There is one new factor that every petitioner should note. In the past, checks that expired uncashed would be voided and reissued in the next distribution in most cases. After D8, there will be a different process due to the necessity of making a final distribution of MVF's remaining assets. Therefore, if you receive a D8 check, you must cash it to be eligible to receive a final payment when D9 occurs.
Collateral Recovery Updates
By now, almost all our petitioners understand MVF's "collateral recovery update" process. Under MVF's payout process, we compute the amount necessary to bring each victim to the new recovery percentage threshold (88.35% for D8) AFTER including all prior recoveries of the victim from any source. MVF cannot issue a check without up to date and accurate information on the petitioner's recoveries from other sources.
The process can be accomplished by simply clicking the button shown below to provide the necessary information. Before each distribution, all eligible victims must certify that: 1) they have not received any recoveries; 2) they have not received new recoveries since prior reporting to MVF; or 3) they have received new recoveries of a specific amount. In each of these circumstances, victims must certify to the accuracy of these updates under penalty of perjury. The update process is simple and allows MVF to calculate the correct payment amount for each victim.
If you have not updated your collateral recoveries after July 1, 2022, you will not receive a check in D8 until we receive an update from you. Please contact MVF immediately if you have an issue in providing an update. This is the same process that we have followed prior to each distribution, and it makes overall payments fair to every victim.
Please remember, failing to update your collateral recoveries makes your original petition – filed under penalty of perjury – incomplete. Certifying falsely that you have not received recoveries or providing incomplete recovery information would be a violation of the law.
So, please be complete and accurate!
Update Your Collateral Recoveries
Collateral recovery updates are essential. Please use the website to update your MVF records so your payments are not suspended. Simply click the button below to begin.
Looking to the Future
We knew at the outset of this process that we would be able to provide at least modest assistance to thousands of victims who were not eligible for recoveries from other sources. As the process unfolded, we have been able to reach far more people with far more dollars than originally anticipated. In part that is due to continued recoveries by DOJ, and in part it is due to the impact of payouts by other programs that we can then supplement, rather than supplant. It also reflects the careful work of our entire team to identify victims and quantify their losses from investing in Madoff. After paying out nearly $4.1 billion and exceeding an 88% recovery level, we are now intensely focused on finishing our work of helping Madoff's victims through our final payments. We will continue to work as hard as possible to deliver the maximum recoveries to all victims.
Respectfully,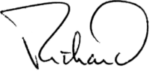 Richard C. Breeden
Special Master, Madoff Victim Fund
Click here to view the Press Release from the U.S. Department of Justice announcing the eighth MVF distribution.
Click here to view the Press Release from The United States Attorney's Office for the Southern District of New York.
The Global Scope of Madoff's Fraud
Claims Per Country as of September 2022
Have questions about your claim? We're here to help. U.S. based support, Monday thru Friday, 8:30am to 5pm EST.
Notes to MVF
The Madoff Victim Fund strives to reach all the victims of the Madoff fraud. Send us a note if you would like to share your views.
"I'm writing to THANK each and everyone of you for the incredible work you're doing to help us victims…we've been trying to get someone to understand that we, and people like us, were completely left out of the system. Our funds were stolen too, yet the only people that seemed to be cared about, and taken care of, is the BLMIS direct customers." M.V.
"I have just been informed about the approval of my claim through the Final Determination Notice you sent me. I want to express my gratitude to the team at Madoff Victim Fund, for the beautiful job they did and for their dedication and effectiveness accomplishing such a difficult task." F.B.
"I would like to thank all at the Madoff Victim Fund for all the time and energy put into this endeavor. I especially want to thank John. He has patiently assisted me on the phone on numerous occasions. He is kind and knowledgeable. He has made this difficult task a lot easier." J.G.
"I am very happy to learn that our petition has been approved. I wish to thank you, very much, for all your great efforts in helping us to recover at least some of our moneys. We really appreciate it. Thank you." A.M.
"Nous venons de recevoir notre indemnité de 25% de notre perte "Madoff". Merci beaucoup pour vos démarches, c'est un vrai cadeau de Noël! Honneur à votre pays qui défend l'intérêt des individus, je déplore que mon propre pays soit beaucoup moins remarquable dans ce domaine. Merci encore mille fois ne serait-ce que pour le principe au-delà de la somme d'argent. C'est le triomphe de la probité sur les escrocs." Madoff Victim
"Today I received the reimbursement check. I would like to thank all of you for what has been done. If all states worked like the US , the world would probably be better." Madoff Victim
"Your commitment to righting this horrific injustice makes me have faith again in our judicial system and humanity. I'd love nothing more than to thank each and every one of you in person. Please know you are making an enormous difference in so many people's lives." J.L. 
"After 10 years of struggles and pain you gave me the chance to live again. . . . I would like to Thank You . . . for the efforts you have been putting together all these years in recovering what was stolen and bringing back true justice to its rightful owners." O.M. 
"Thanks so much for caring about us, and all the other victims. . . I honestly had gotten to the point that I didn't think anyone cared about us at all; but your kindness, and caring, is beyond any expectations."  M.V.D. 
"It's great to see how U.S. Justice is able to manage the compensation on a global scale, here us being in Germany. Next to efficient communication via electronic media, it builds trust how customer in the financial markets are protected by U.S. government." R.S. 
"I just wanted to thank you, your organization, your laws, your public servants and in general your country, for all the time, dedication and determination in trying to recover value for investors involved in the Madoff scam worldwide, regardless their nationality, creed and origin. Pursuing justice, domestically and abroad is one of the things that make your country great. You all should be very proud of it."  J.P.R.
Questions regarding eligibility?