Madoff Victim Fund
Spring 2018 Update

The Madoff Victim Fund and the U.S. Department of Justice Announce New Payout to Madoff Victims
MVF will distribute over $504 million to 21,839 victims, bringing all participating victims to a minimum recovery of 40% of their fraud losses;
As a result of this distribution, MVF will have paid nearly $1.3 billion to 28,056 victims of the Madoff fraud;
18,414 Madoff victims who participated in MVF's first distribution in December, 2017 will receive another $327.9 million, representing an additional 15% of their fraud losses;
1,235 newly-approved victims will receive funds in this second distribution. All newly-approved claims will receive payments of 40% of their fraud losses, less all prior recoveries;
2,190 victims whose claims were previously approved but did not receive a first round payment (primarily due to collateral recovery levels) will also receive payments in this distribution; and
The 3,425 newly-approved or newly-participating victims will receive payments of more than $176 million. 696 of these claims report zero prior recoveries on their losses.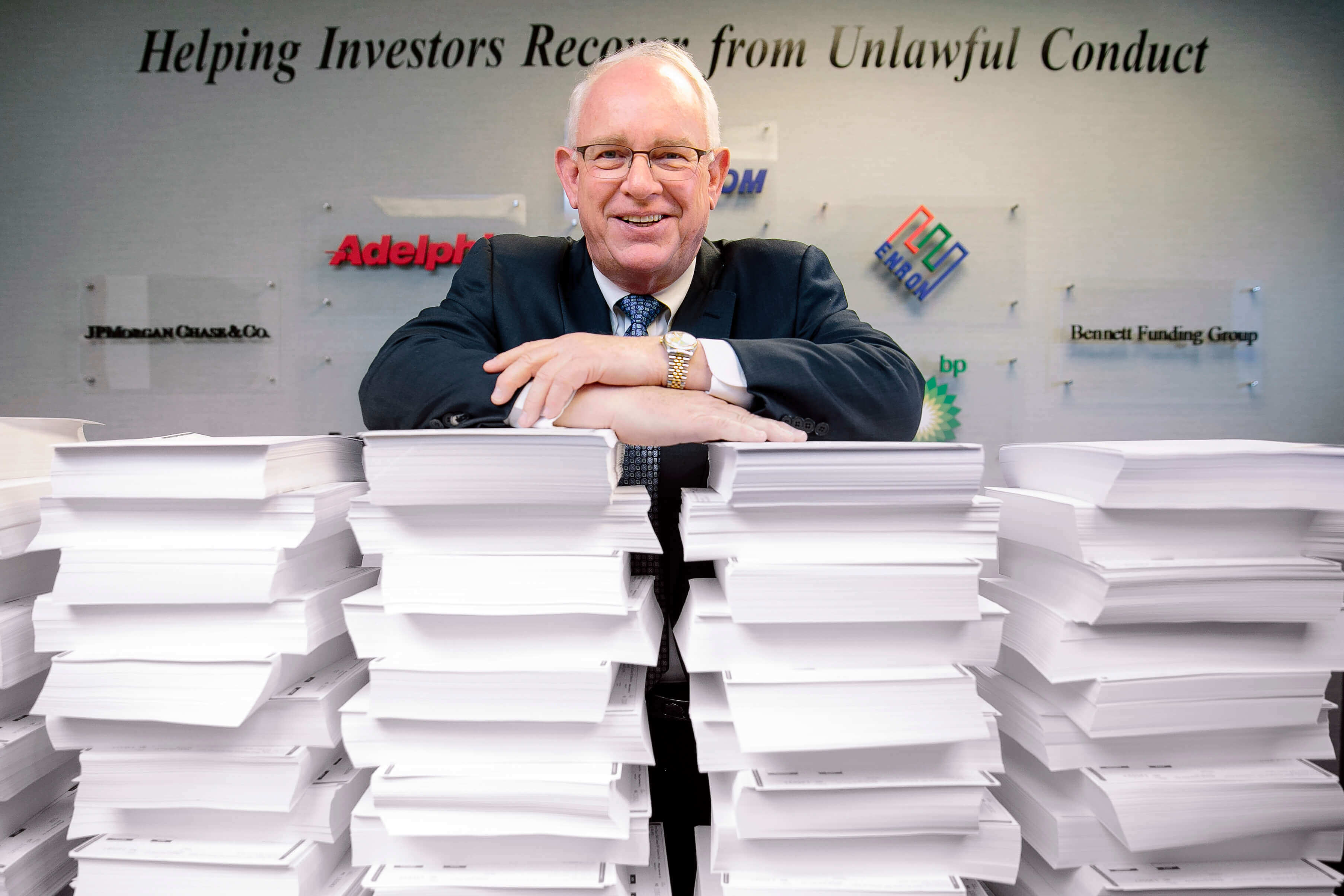 Special Master Breeden with the checks for MVF's first distribution.
"The Madoff Victim Fund is providing recoveries for Madoff victims everywhere, and particularly for victims without access to other sources of help. Our effort is based on the fundamental principle that every victim of this historic fraud should have a chance for a recovery, no matter how or where their funds were stolen. With this second payout, we have provided assistance directly to over 28,000 victims, including over 3,400 additional victims added since our first payout. We never forget that behind these statistics are real people, and we strive to make the greatest possible difference for every one of them."
Richard C. Breeden
Special Master, Madoff Victim Fund
The Madoff Victim Fund is pleased to announce that it has commenced its second distribution of funds forfeited to the United States Government in connection with the fraud at Bernard L. Madoff Investment Securities. Over the next several weeks, MVF will distribute $504.2 million to 21,839 victims of the fraud whose petitions for remission have all been approved by the Money Laundering and Asset Recovery Section in the U.S. Department of Justice ("DOJ"). Losses for these petitioners were calculated in accordance with the MVF Plan of Distribution (the "Plan") previously approved by DOJ.
Payment Summary
The MVF remission process compensates victims whose own funds were stolen in the fraud, regardless of the manner in which their funds reached Madoff.  At the completion of the second distribution, 28,056 victims will have received checks totaling nearly $1.3 billion. Payments have been distributed to victims in 49 states, the District of Columbia and 121 other countries.
As part of this distribution, 18,414 victims who received checks in MVF's first distribution in November of 2017 will receive $327.9 million, or approximately 65% of this second distribution.  This payout, when combined with the victim's prior recoveries, will bring each participating victim to a baseline recovery of 40% of their eligible fraud losses. This is up from the 25% baseline recovery that MVF paid in its first distribution.
In addition, victims who did not receive a check in MVF's first distribution will receive $176.3 million, or approximately 35% of the overall payout.  This group includes many claims that have been approved by DOJ since the end of MVF's first distribution.  MVF and DOJ continue to work hard to approve every remaining claim that meets the eligibility standards in the Plan.
Total Recipients by U.S. State
Additional Payments to Victims with Zero Prior Recoveries
An important part of MVF's effort involves providing a recovery to victims of the fraud who have not recovered any portion of their losses from any other source — including the Madoff bankruptcy, class action payouts or otherwise.  Beyond the financial benefit of a recovery, we want to be sure that no victim of this horrible crime is left out of the recovery effort.
In MVF's first distribution, 16,557 victims with zero prior recoveries received over $545.6 million that provided them a recovery of 25% of their losses.  Each of these individuals will now receive an incremental 15% of their fraud losses that will bring them to a 40% recovery including any recoveries they may have received since the first distribution.
In the second distribution, 696 additional victims with zero prior recoveries from any source will receive payments from MVF of approximately $85.1 million.  These additional "zero recovery" victims include individual investors and a variety of organizations including government entities, pension plans, health care providers, universities and other charitable groups.
Over the two distributions, MVF will have paid over $630.7 million to 17,253 victims with zero prior recoveries.  Depending on their individual situation and eligibility for various programs, some Madoff victims will still recover more than others.  However, as a result of MVF these disparities are being dramatically narrowed.
Total Recipients by Country
Bringing Every Victim to a Higher Minimum Baseline Recovery
In accordance with the Plan, payments to victims are structured to provide progressively higher "baseline percentage recoveries" for all eligible victims.  To do this, MVF makes payments to individual victims that, when added to all prior recoveries from MVF or any other source, equals a set percentage – now 40% — of their fraud loss amount.  In the first distribution, 24,631 victims were brought from whatever they had recovered previously to a total recovery of 25%.  Now, 21,839 victims are being brought to a 40% total recovery including all prior recoveries.  Any victim approved in the future will also be brought to a total recovery of 40%.
It may sound complicated, but this approach insures that eligible victims are brought to steadily higher minimum recovery percentages of what was stolen from them.  This allows MVF to focus its limited resources on helping every eligible victim realize the highest possible baseline recovery from the available funds.  If a particular victim's total recoveries are above 40% of their eligible fraud loss, they will have the chance to participate in future MVF payouts once our payout percentage exceeds what they have already recovered.

Updating Collateral Recoveries
As with the first distribution, MVF calculates individual victim payments based on what amount is required to bring an individual victim to a total percentage recovery of their eligible fraud loss, including all prior recoveries from other sources (sometimes called "collateral recoveries"). We describe that payout percentage – now 40% — as the baseline recovery percentage, and it is likely to go up with each MVF distribution. Because the amount of recoveries from all sources received by a victim is part of the payment computation, every victim has been asked to provide periodic updates on their own recoveries from sources other than MVF.  Absent disclosure of outside recoveries, some investors would be paid more than the recovery percentage being paid to everyone else.
As part of our work, MVF has reviewed over 51,000 collateral recovery updates from investors through more than 1,200 individual investment entities.  We have reviewed nearly 10,000 updates provided by victims since MVF's first distribution a few months ago.  As a result, MVF is often able to determine whether a victim's reported collateral recoveries are or are not consistent with known distributions to other investors through the same entity.  Nonetheless, we still need individual victims to update us on their recoveries in order to avoid having to delay future payments.
It is very simple to report the amount of your collateral recoveries online through MVF's website. Similarly, if you have NOT received any new recoveries since your claim was filed, or since the last update you provided to MVF, you can use the website to confirm that you do not have any new recoveries to report.  So, reporting is simple and convenient… just click the button below.
Update Your Collateral Recoveries
You can submit your updated recoveries right on our website.  Simply click the button below to begin.
Withholding Additional Payments to Certain Victims
To date, most victims have updated their collateral recoveries one or more times since the time their claim was filed.  For those victims who have not provided any update despite frequent requests, MVF is withholding additional payments until an update is received.  If your check was withheld due to lack of collateral recovery information, please provide this information now so that we can continue payments to you.
Similarly, MVF is holding back second distribution checks from victims who have not yet cashed their first distribution check.  These checks have a stale date of 180 days from the date of issuance.  Based on the timing of the first distribution, uncashed checks will expire in May and June of this year.  The stale date is an important mechanism in protecting against check fraud, and in discovering if there is an issue with a victim — including changes of address.  If there was something wrong with the mailing address of the first check, or if it was lost or stolen, we don't want to send additional checks to the same place.  Therefore, MVF is withholding second payments if the first check was not cashed by March 31, 2018.  This hold will automatically be released when first checks are cashed.
Altogether there are approximately 4,800 victims who received checks in the first distribution who will have their second distribution checks delayed until they either (i) provide a collateral recovery update, or (ii) cash their first check.  If you have an uncashed check or have not provided a collateral recovery update and do so soon, we will do our best to include you in this payout before it is completed.  Thus, if these issues are cleared up, this distribution could end up including even more victims and more funds distributed before it is finished.
MVF has also placed holds on payments to all claimants through a small number of specific investment vehicles that have recovered significant funds (such as payments from the bankruptcy estate or class action settlements) that have not yet been paid out to their investors, who are MVF's claimants.  In a small number of other situations, investment vehicles have not yet recovered any funds due to ongoing litigation, even though they are likely to recover funds for their investors in the future.
As a result, claimants who invested through such vehicles are currently reporting zero or low collateral recoveries, even though they may receive very significant payments in the future.  Until these distributions are completed, the underlying investors can't say how much they will receive.  To use a hypothetical example, if someone is eventually going to recover 80-100% of their losses from their investment vehicle, they will exceed MVF's 40% recovery level and therefore can't receive a distribution from MVF in this round.  Even a lower percentage recovery would reduce the amount that MVF would pay to enable the victim to reach a 40% recovery.
MVF hopes that we will eventually be able to pay every one of these underlying investors with approved claims if their overall recoveries remain below MVF's payout levels.  However, to be fair to all victims we can't do so until the current uncertainties are resolved.
Keeping Reserves for Claims Under Review
To date, DOJ has approved 39,427 victim claims, and we anticipate that the final total will exceed 40,000 approved claims.  MVF and DOJ must still resolve approximately 2,000 requests for reconsideration of claim denials, and approximately 2,850 claims require final decisions on other issues.  This work is proceeding rapidly.  However, until every claim is finally resolved, including any appeals, MVF cannot determine the final percentage payout level.  As a result, MVF must keep sufficient reserves to make the same percentage payments to other victims whose petitions might be approved in the future.
Looking to the Future
As with MVF's first distribution, my staff and I are thrilled that we have now helped over 28,000 victims reach a 40% recovery of their fraud losses.  The size of what was stolen remains staggering, but fortunately the level of recoveries by victims is also significant and rising quickly.  Making this all happen involves a huge amount of work, and we remain intently focused on assisting every eligible victim.  We particularly want to thank all the victims who have taken the time to send us a note or letter after receiving their payments, as it means a great deal to hear from the real victims we are able to help.
As always, I will do my best to provide you detailed information on MVF's progress.  We expect the next six months to be a very busy time as we resolve pending appeals, approve new claims and make other adjustments to the claims base.  At MVF, our entire staff understands what a difference our payments can make to every victim, and we are so pleased to provide this latest installment of the ongoing recovery.
Sincerely,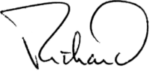 Richard C. Breeden
Special Master, Madoff Victim Fund
Click here to view the Press Release from the U.S. Department of Justice announcing the second MVF distribution.